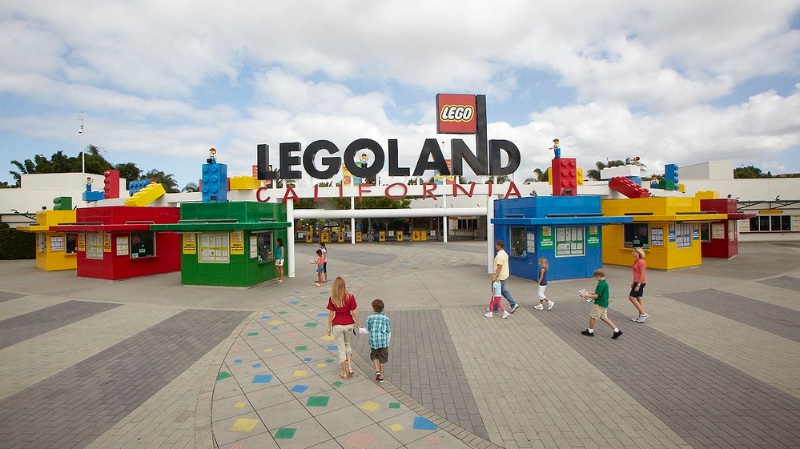 Want to take your little ones on a fun theme park vacation this summer? Mickey Mouse isn't the only game in town! Although we've enjoyed our family trips to Disneyland a couple of times in the past, we recently took our three kids to LEGOLAND for the first time – and it definitely won't be our last!
Here are some tips and tricks we learned on our LEGOLAND visit that can help make yours a resounding success:
Find out where LEGOLAND is first
For us, LEGOLAND was just a couple-hour drive away, in between Los Angeles and San Diego. The California location is one of their big, 100+ acre parks – others like it are in Florida, Dubai, Windsor, Germany, Denmark, Malaysia and Japan. If you don't feel like traveling all the way to one of those, LEGOLAND has smaller, indoor "Discovery Center" parks in places like Chicago, Kansas City, Dallas, Atlanta, Boston and New York, too.
Brush up on your children's ages
We know you've got a lot on your mind these days, but try to take a moment to figure out approximately how old your kids are. This is important, because LEGOLAND is designed to be most fun for kids between 3 and 12. So if you have kids in that age range, you're golden. There will be lots of fun rides and other activities for them to do, and unlike other theme parks, you'll have almost no crowds of bigger kids like teenagers to contend with. Also, if you have a baby under age 3 like us, that one gets in free!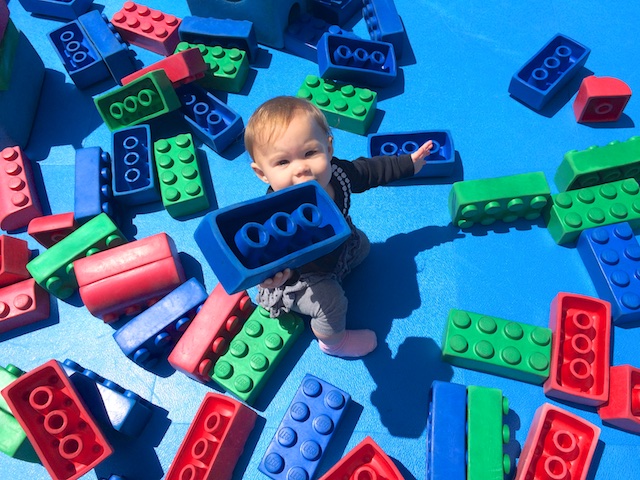 Check the weather report
This one's probably out of your control, but if you can get really lucky and go on a day when it looks overcast and rainy in the morning, but then clears up to become an absolutely beautiful day, you should do that. We did, and it was awesome – we never felt overwhelmed by throngs of park-goers, and there were almost no lines for any rides all day. Even without an unusual weather situation like we experienced, you'll probably find that LEGOLAND tends to be much less crowded than places like Disney.
Find a sweet deal
Not to keep knocking the Magic Kingdom or anything, but admission to LEGOLAND is considerably less expensive than Disneyland or Disneyworld, especially if you land yourself a discount or promotion offer (there are usually several on different websites if you do a quick search for them). For us, the best bargain came because we were members of our California Parent Teachers Association – buy one adult ticket, get one kid ticket free! Score!
Take little kids to the left
We're not sure about every LEGOLAND location out there, but at the California one, all the cool little kid rides and activities are to the left once you enter the park. The whole layout is one big circle, so it's not the end of the world if you head right instead – but be prepared that the bigger, bumpier rides you'll run into there first might be too intense for your littlest kiddos.
Snap some pics
One of the things that make LEGOLAND unique is that there are all these cool sculptures made of Legos all over the park. So let your kids check them all out, and pose for some adorable photos with them. Easy entertainment!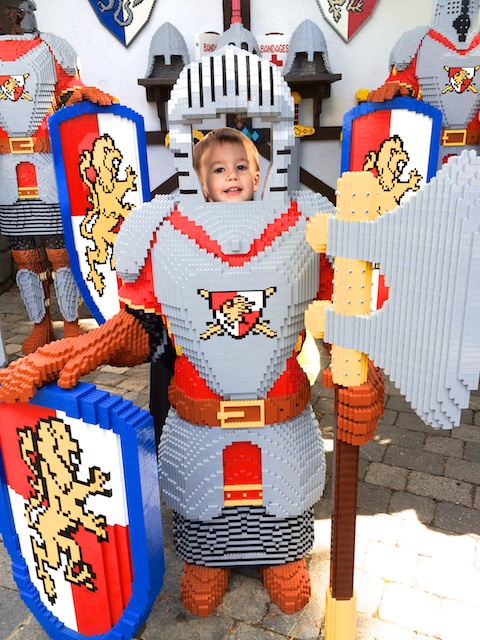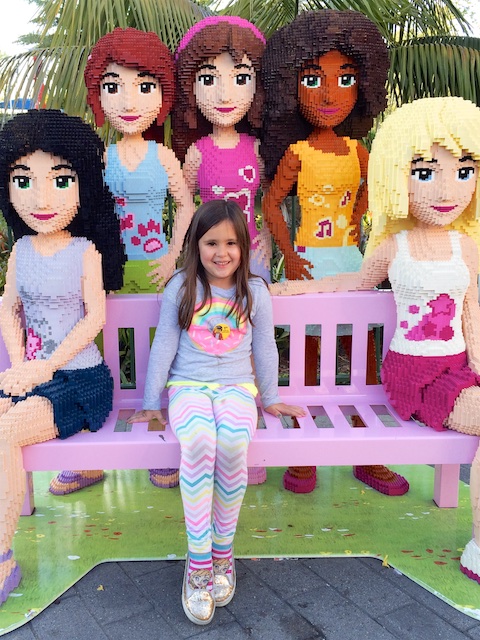 Give your kids a geography lesson
Speaking of Lego sculptures, there's a world – no, universe – full of impressive ones right in the middle of the park. It's called Miniland USA, and it features over 32 million Lego bricks forming famous cities like New York, Las Vegas, Washington DC, San Francisco, Los Angeles, New Orleans (our personal favorite), plus a whole bunch of Star Wars stuff, because why not, right? Teenagers would probably find walking through this place to be some form of cruel and unusual punishment, but our five-, three- and zero-year-olds let us prattle on and on about all that stuff with pleasure.
Keep an eye on your children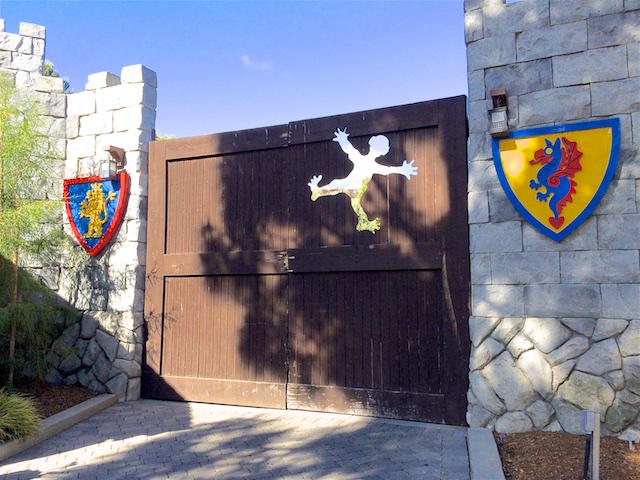 Or else this might happen to them, apparently.
But don't be afraid to abandon them in line sometimes
We know this one sounds especially weird, but stick with us…Many LEGOLAND attractions require kids under 42 or 48 inches to have an adult ride with them. But what if you have two children who want to ride, and only one parent available to accompany them (perhaps because, like us, someone has to stay with the baby during all the big kid rides)? Park employees are prepared for this exact situation! Just stand in line with both children, then when you get to the front of the line, board with one kid – while the second one hangs out at the front of the line with the park employee. When you finish the ride, drop the first kid off with the non-riding parent, go right back to the front of the line, and they'll let you ride with the waiting child, too!
You don't have to fight for your right to potty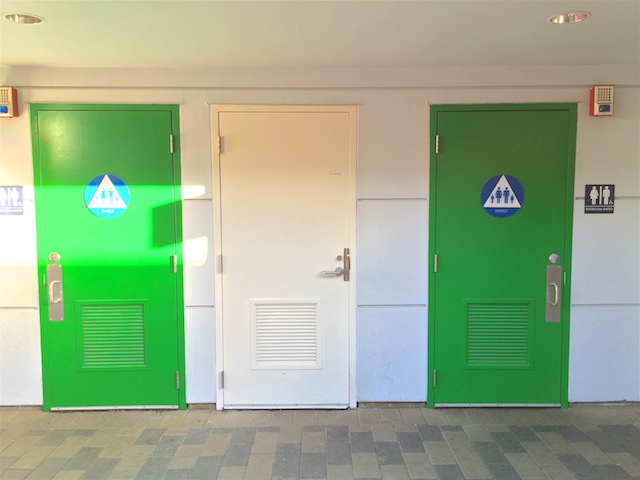 You can really tell LEGOLAND caters to customers with little bladders. The restrooms are plentiful, especially family-friendly ones like these. We made buttloads of pit stops in the family restrooms during our day – and two adults, three kids and a stroller fit into each one with ease. Draw up a plan of attack that has one parent changing a diaper on the changing table while the other is wiping a butt on the potty, and you can finish your business, and get back to the fun, fast! If you really want to tweak toilet time up a notch, look for the "Baby Care Center" in Fun Town. It's got changing tables, rocking chairs for nursing moms or baby-rocking dads, a whole baby-feeding area complete with highchairs, microwave and refrigerator, free feminine supplies and some of the cleanest, quietest restrooms in the park.
Split the ice cream and save big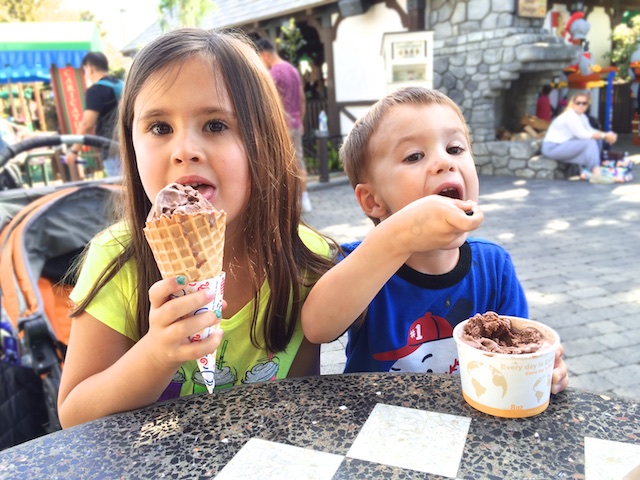 If you allow your kids to pass through the Castle Hill section of the park without blindfolds or nose plugs, they will surely notice the ice cream shop – and immediately demand you take them there. Check the menu prices at this place, and you'll notice that a double scoop is way less expensive than two single scoops. So order one cone with an extra cup, and you can feed two kids without having to dip into their college funds.
Maybe let your child lie…just this once?
Also in Castle Hill, there's this cool Royal Joust ride that lets your kids ride on their very own horses, all by themselves! The only catch? Each kid has to be at least 36" tall and four years old to ride. And the LEGOLAND employees are super strict about those rules. While standing in line, we noticed employees asking each child how old they were before letting them on. Other parents noticed this too, forcing people with 36" three-and-a-half-year-olds into a real moral dilemma. Do you teach your kid that honesty is always the best policy? Or do you let them tell a little white lie…just this once? Some parents were taking the high road, telling their kids, "We'll just explain the truth to them, and hopefully they'll let you ride anyway." Others were surreptitiously coaching their kids on how to answer the big question, holding up four fingers and mouthing the word "Four" to them over and over. The truth tellers were shown the exit every time, while the lying tykes had the time of their young lives. So what did we do with our three-and-a-half-year-old? No comment.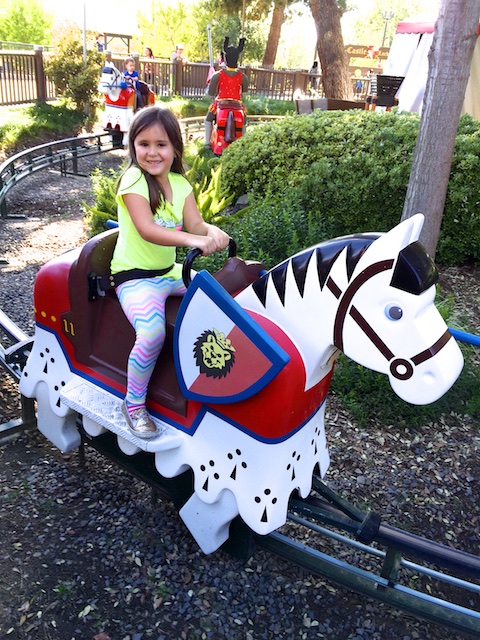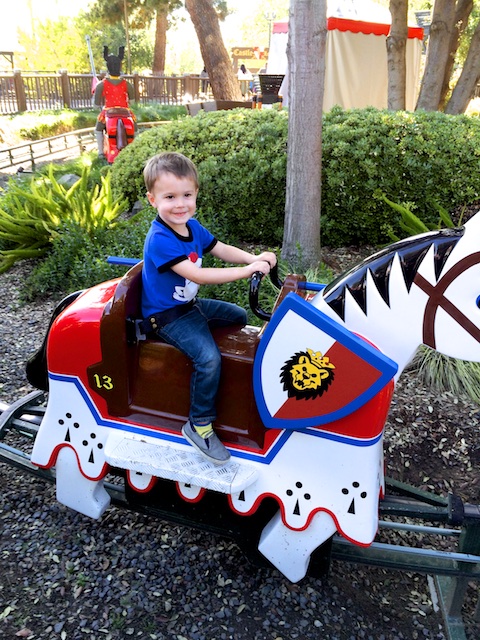 Sit back, relax and enjoy the ride!
For families with young children, it's tough to top a trip to LEGOLAND. We found the park to be an ideal blend of laid-back wandering around, and little-kid-level excitement. And there are fun rides for the whole family – babies included!