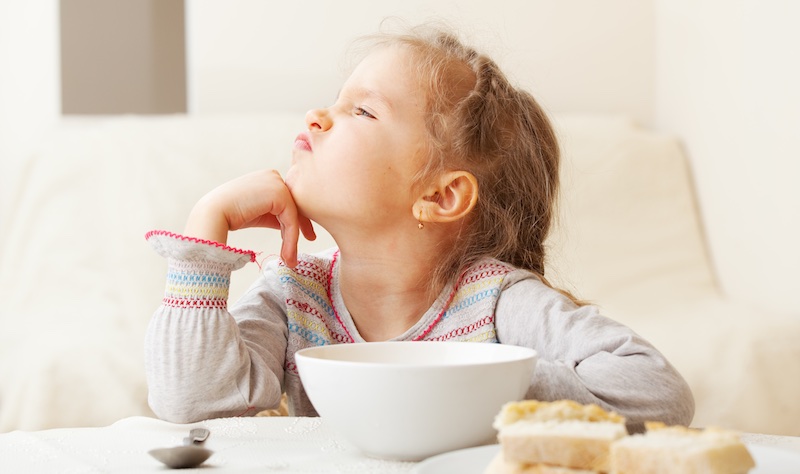 If you've spent much time on our site, you may know that we're big fans of the good old fashioned family dinner. When your family regularly sits down to distraction-free, conversation-filled meals, your kids really come out ahead.
But what should your dinnertime conversations be about?
We used to think pretty much anything was fair game…until we read Raising a Healthy, Happy Eater: A Stage-by-Stage Guide to Setting Your Child on the Path to Adventurous Eating by pediatrician Dr. Nimali Fernando and children's food coach Melanie Potock.
And now we know that the following five phrases are serious dinnertime DON'TS. (Full disclosure: Some of these might be tougher to stick to than others!):

"Join the clean plate club."
Instead of giving your child an arbitrary goal like cleaning his plate, encourage him to eat until he's satisfied. That way he'll get practice reading his body's signals. Even though encouraging him to eat what you have carefully doled out for him could result in a healthy dinner tonight, teaching him to listen to his body could put him on the path to healthy eating for life!
"If you do ________, you can have a treat."
According to the book's authors, when sweets are used as rewards, children begin to value them over other foods and crave them even when they're not actually hungry. We know exactly what you're thinking right now: "Yeah, so do most adults – so what's the point?!" But the authors suggest that you can put sweets on a more even playing field with healthier foods by serving them in small portions alongside your regular meal – that way your child learns that dessert can be a small part of a regular diet.
"See, I knew you would like it!"
Statements like this end up sounding like "I told you so," and nobody likes to hear that. So stay positive and bond over your appreciation of the same food instead. "I like avocados too – they're so soft and delicious!"
"Picky."
Kids are keenly aware of the language around them. They're always listening – especially when it's about them! So never call your kid a picky eater, because she's bound to hear it, and then live up to the label. Instead, the authors recommend using other terms like "exploring eater" or "learning eater" that convey the more positive message that although your child might not have a large food repertoire now, that could soon change!
"You don't have to eat it."
This sentence is often used with non-picky and picky eaters alike. (Whoops. We just said "picky." See? We told you some of these would be tough to stick to.) According to the book's authors, telling your kid it's totally cool with you if he skips his veggies breaks down trust. You know you want him to try it, and he knows you want him to try it. So cut the BS reverse-psychology routine already. Instead, put small portions of new foods on your child's plate along with his familiar foods and encourage him to taste test them. (If your child hasn't become accustomed to tasting new foods frequently, you can always make it a rule that he has to try at least a little bit of everything.)
Are you ready to try a little bit of Raising a Healthy, Happy Eater for yourself? Buy it on Amazon right here, or visit the author website over here.
---
This week only – win a free book!
The Doctor and the Dad are randomly selecting one lucky reader to receive a free copy of Raising a Healthy, Happy Eater: A Stage-by-Stage Guide to Setting Your Child on the Path to Adventurous Eating! And there are three ways to enter for your chance to win:
Make sure you've subscribed to receive email updates from our website, then leave a comment on this article below.
OR
Make sure you've liked our Doctor and Dad Facebook page, then share this article on Facebook with the tag @TheDoctorAndTheDad.
OR
Make sure you're following our Doctor and Dad Twitter feed, then tweet a link to this article with the tag @DoctorAndDad.
All entries must be received by April 20, 2016. One entry per person per entry method – so if you do all three, you'll triple your chances of winning!

Good luck everybody!