Today's question comes to us from just about everyone who has ever seen our one-year-old son scoot his cute little baby body across the floor.
Why is your baby crawling like that? Is this for real? What the H is going on here? I mean seriously, whaaaaaattt???
– Just About Everyone
Well, everyone, thanks for the question. So here's the thing about crawling: babies do it lots of different ways.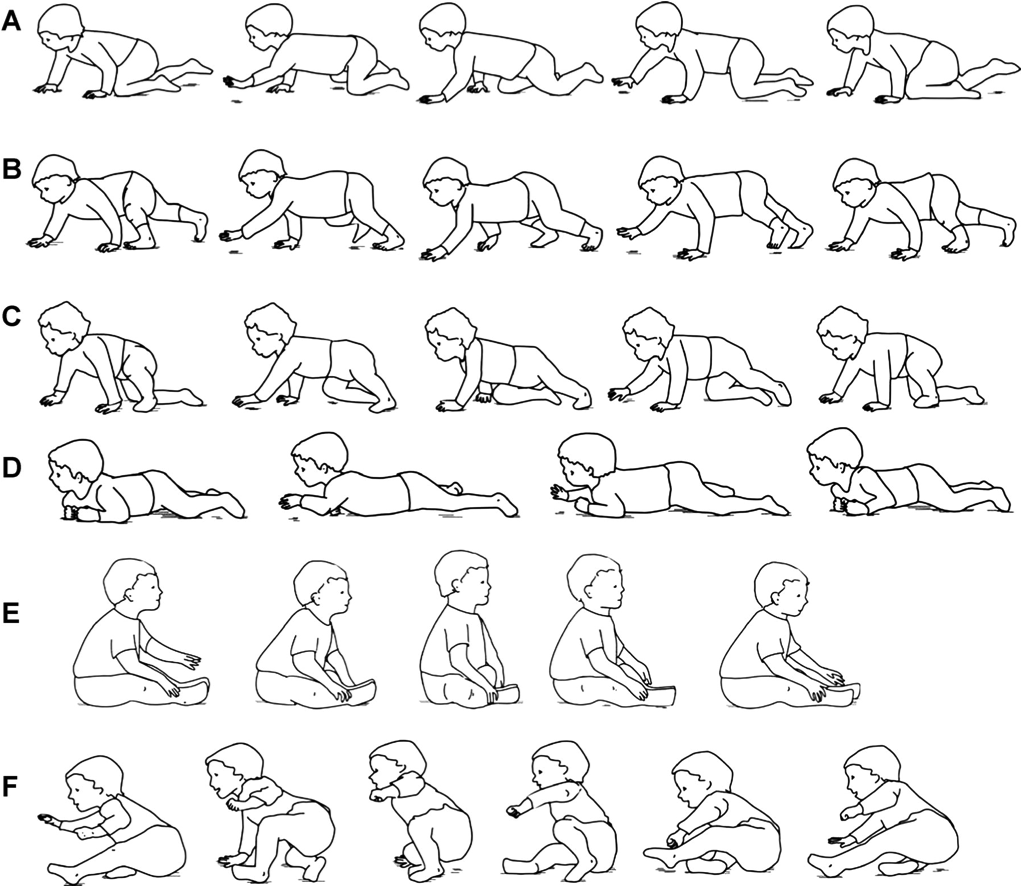 We think this chart of common crawling patterns, from Susan Patrick et al.'s research study on the subject, is great because it really helps you see the babies in action. Scan the rows from left to right, and chances are one of them will make you feel like you're watching your little one all over again. (Our daughter used an "A" crawl. Our son with the crawl you all keep asking about? He's an "F.")
Percentages of pre-walkers of different types are hard to come by, but the best available evidence suggests that approximately:
82% of babies are traditional crawlers (A, B or C)
2% prefer a creep or roll (D)
9% or so use a sitting method (E or F)
7% skip crawling altogether and go straight to walking (which, if we're being perfectly honest, sounds like something you'd expect to see in one of those weird, creepy Japanese horror movies)
[scrippet]INT. DIMLY LIT HOSPITAL ROOM – NIGHT
A rusty mobile squeaks above an empty crib.
CUT TO a NEWBORN INFANT, head cocked to one side, walking slowly toward camera.
NEWBORN INFANT
Ugggghhhhhhhh…
Everyone dies.[/scrippet]
And it turns out that the crawling method kids choose is related to the age at which they start walking. Kids that skip crawling altogether are the first to walk, traditional crawlers are next, and other non-standard scooters and creepers are last. (Sorry, son. Looks like statistically speaking, you'll be on your bottom for a while. Which is actually great for Mommy and Daddy, because we think your strange Step-Scoot Mix Using Three Limbs could not be cuter.)