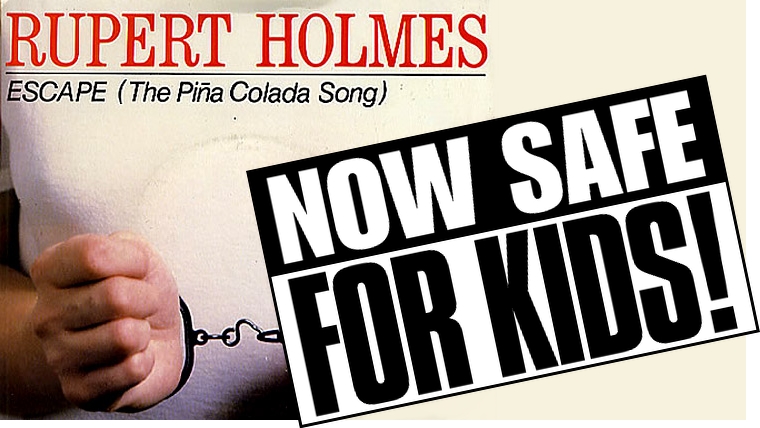 By the time you get to be an adult, you probably have thousands upon thousands of song lyrics bouncing all around inside your brain. And every so often, you might want to belt a few of those lyrics out.
Normally, this isn't a problem.
Singing in the shower or rockin' out with the car radio are some of the most widely relatable human experiences we have. Everybody does it – including us parents.
But what happens when the song you're itching to sing is full of adults-only lyrics – featuring sex, drugs and rock and/or roll – yet your sweet, innocent, adorable, little angel baby is sitting right beside you?
Earplugs are certainly an option. But we don't think it's your best bet.
We say you should be able to sing whatever songs you want in front of your kids – you just have to clean up the dirty parts first!
That's exactly what the Doctor and the Dad just did, coming up with our own kid-friendly song lyrics for the classic Rupert Holmes hit "Escape (The Piña Colada Song)." And it went a little something like this:
Oh boy. The song just started and we already have to start editing. "I was tired of my lady, we'd been together too long" isn't exactly the "Mommy and Daddy have a totally awesome, life-long marriage" message we like to impart to our kids. But that's no problem – we can just change the first few words to one of these options:
I admired my landlady…

I was drivin' a Mercedes…

I retired at age eighty…
Chorus time! This part is super catchy, yet also way too alcoholic for the kids. So we're going to have to replace "If you like piña coladas" with something more age-appropriate, like:
If you like cheese enchiladas…

If you like quinoa frittatas…

If you like beanbag recline-ahs…
The lyric that's unquestionably the most fun to really let loose on is also, unfortunately, super duper sexy. So to help "If you like making love at midnight" go from an R to a G rating for the little ones, we're changing it to:
If you like having fun at midnight…

If you like wearing gloves at midnight…

If you like training doves at midnight…
More booze! Quick, let's change "I am into champagne" to whatever subjects you'd like your children to enjoy studying in school, such as:
I am into the brain…

I am into Mark Twain…

I am into Fort Wayne…
Oh yeah. "Escape (The Piña Colada Song)" repeats its chorus about eighteen more times before it ends, so here are a few more alternatives to that "If you like making love at midnight" line for your sanitary singing enjoyment:
If you like spinning globes at midnight…

If you like baking buns at midnight…

If you like waking slugs at midnight…
And that's all there is to it!
So how do you think we did cleaning up this song? Got your own ideas for some alternate, kid-friendly song lyrics? We'd love to hear them in the comments!