Have you seen this video some shrewd dad from Shrewsbury, England just put up on Facebook?
https://www.facebook.com/photo.php?v=10201631236209743&stream_ref=10

The Doctor loves it because it shows how hypotheses and experimentation can be used to create innovative solutions to real-life parenting problems.
The Dad loves it because it's something he can actually do.
Way to go, Nick!
Science: 1
Ridiculous-looking "Dad-dos": NOTHING!
---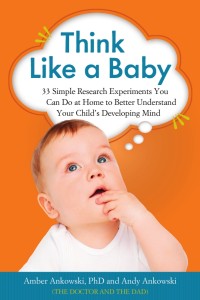 Like this article?
You'll love our book, 
Think Like a Baby: 33 Simple Research Experiments You Can Do at Home to Better Understand Your Child's Developing Mind
.
Order it now from 
Amazon
, 
Barnes & Noble
 or 
Chicago Review Press
!