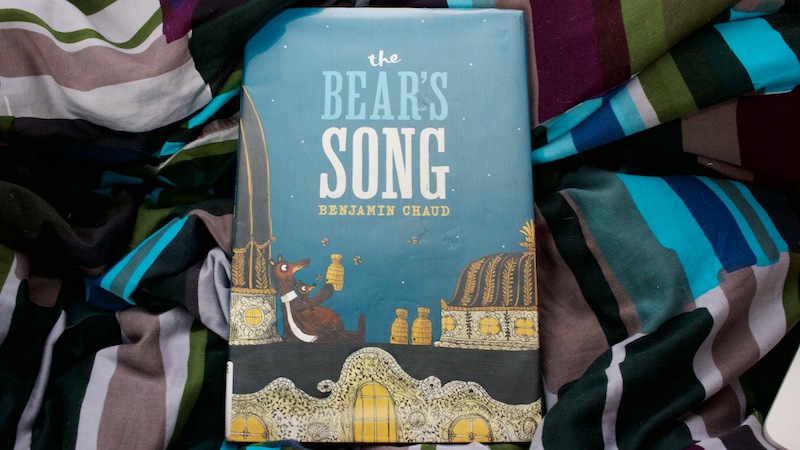 Our family loves the library. For us, there are few things better than setting the kids loose at the entrance of the children's section, and letting them gather sacks and sacks of as many books as their tiny arms – and library card limits – can hold. Sure, we wind up having to carry most of those big, heavy stacks of books ourselves, but it's worth it. Especially when the kids come home with a real treasure…
Which is exactly what they found in Benjamin Chaud's The Bear's Song.
It's hard to pinpoint exactly what's so great about The Bear's Song, because it's pretty much everything. The actual story is very simple. Basically, a baby bear leaves his den to chase a bee and his papa bear runs after him. But the author manages to tell the story using beautiful words that are a delight to read – and both fun and educational to discuss with the kids. And the illustrations on every page are so adorable and intricate that the book is practically a cute little loving-parent-searches-for-lost-child story, plus a Where's Waldo? book all wrapped up into one.
The book is full of so many hidden gems that you could find new things to love with every reading. That's why we decided to ask each member of our family what they've enjoyed most about it.
And here's what we said:
The Son
I love this page the best.
Mom + Dad: Why?
The colors. And because I get to find all the animals.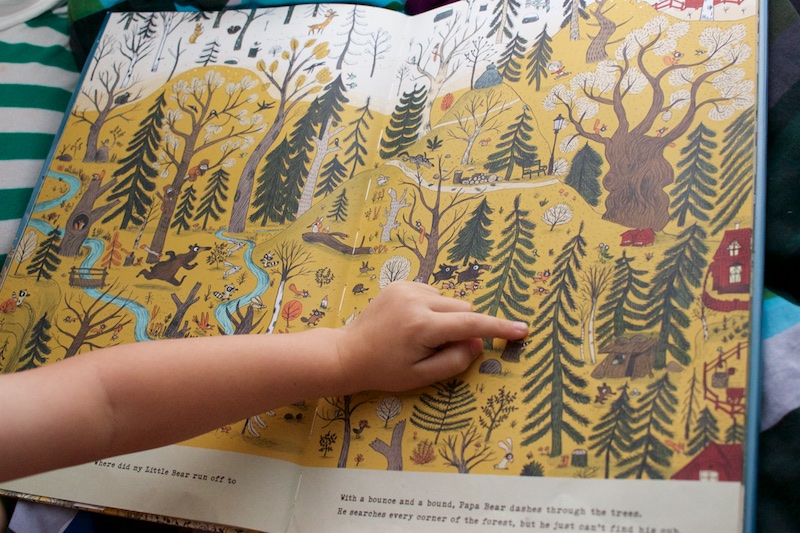 The Doctor
I love that there are sweet and funny details on every page. Like trappers cowering in a tree, or Papa Bear thinking he found his baby, but it was really a little boy wearing a hat with bear ears on it. I also can't help but love that it has lots of great vocabulary words in there, like "beckons," "frazzled" and "bustle."
The Son: So you like all the words!
Yeah.
The Daughter
I like the end the best where they have the honey together, because it's really sweet.
Mom + Dad: Did you realize you just made a joke?
Oh yeah!
The Dad
I like that if I'm feeling energetic, I can read the whole story, word for word, to the kids. But if I'm feeling lazy, I can just flip pages while they check out all the cool stuff in the pictures. Also, I like that the book tells the exact story of what happened to me with each of my kids. Every one of them once chased a bee through the city, forcing me to run after them until I eventually found them in an opera house.
The Kids: No you didn't! We did not do that!
How do you know? Do you remember not doing it?
The Kids: Yes! I remember not doing it!
The Baby
BEE! BEE! BEEE!! BEEEEEE!!!!!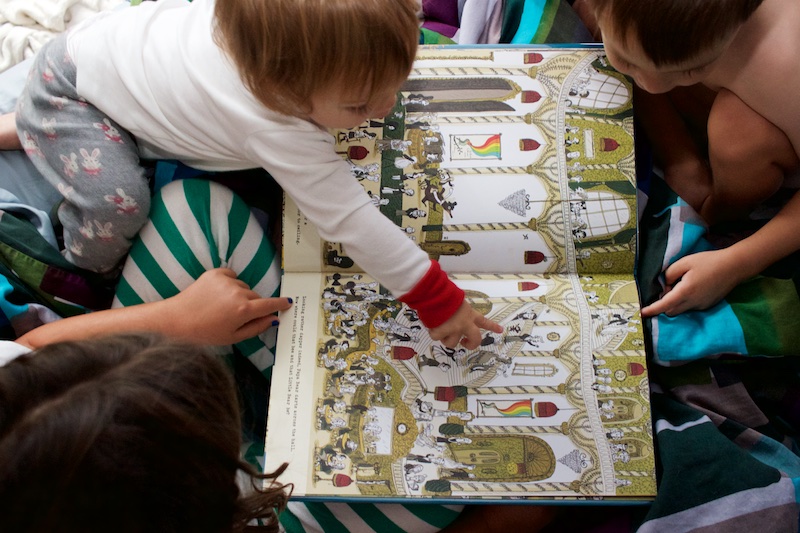 Want to read The Bear's Song for yourself? Go check it out at your local library, or buy it on Amazon now!