Hey everybody. Just wanted to let you know that there are now more ways than ever to make sure you get your Doctor and Dad fix every time we post something new:
You can follow us by subscribing to email updates.
You can follow us on Facebook.
You can follow us on Twitter.
You can follow us on Bloglovin'.
And you can even follow us from a medium distance, "disguising" yourself with highly reflective sunglasses and a tan trenchcoat, while we're walking down the street.
(But please don't do that last one. It's seriously creepy. And totally not cool. Not cool, guys. NOT cool.)
---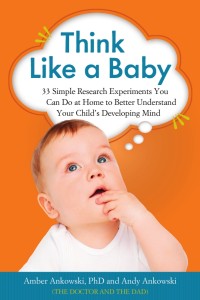 Like this article?
You'll love our book, 
Think Like a Baby: 33 Simple Research Experiments You Can Do at Home to Better Understand Your Child's Developing Mind
.
Order it now from 
Amazon
, 
Barnes & Noble
 or 
Chicago Review Press
!