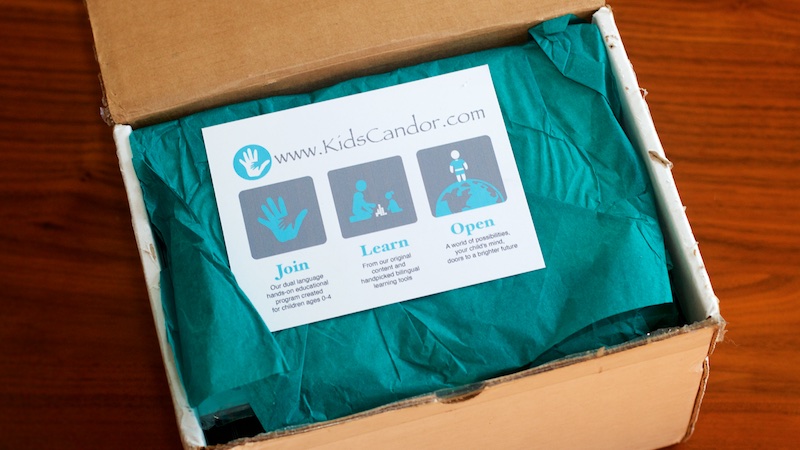 How many languages does your child speak? One? Dos? 更多?
A constantly growing stack of research shows that kids who can speak multiple languages have a serious advantage over kids who speak only one. Being bilingual can make kids better able to focus attention. It can help them learn additional languages more easily. And it can delay the onset of Alzheimer's disease by about a decade compared to their monolingual peers.
So yeah, there's no doubt that being bilingual is muy bueno for kids.
The only problem? The Doctor and The Dad are decidedly monolingual. We have almost no second-language game. Sure, Amber studied Spanish in high school and took intensive Portuguese in college. But now they're unfortunately so comingled in her brain that she can't remember which words go with which language. Andy studied four years of a language no one speaks (Latin) in high school, and just enough Russian in college to now be able to say "Hi," "I love you" and "I speak Russian…poorly."
As you can imagine, none of this will do any good for helping our kids to become bilingual and reap all the amazing benefits that come with it.
That's why we – and our kiddos – were thrilled when we received a cool, complimentary Kids' Candor bilingual education kit in the mail for us to review. Keep reading to find out what we thought of it – and to enter for a chance to win your own kit too!
The Contents
Kids' Candor offers a whole bunch of themed education boxes designed to improve the English and Spanish skills of kids from age 0 to 3+. You can buy each box individually, or choose a subscription option to have a new kit sent to you each month.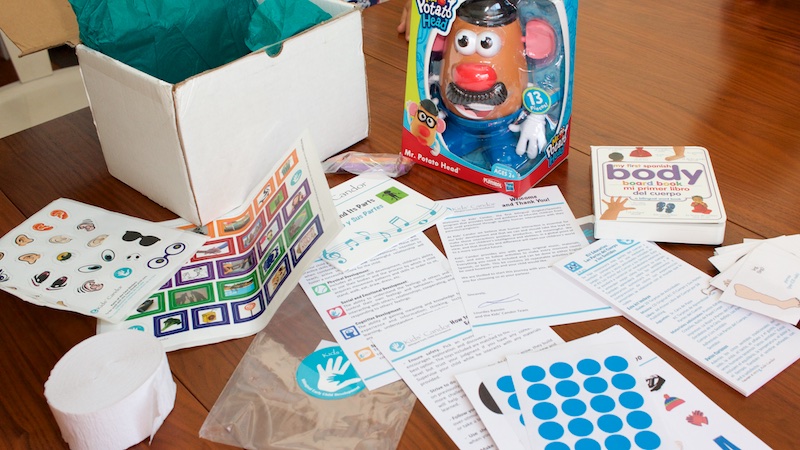 We got the "Body Parts & Senses" kit. It was a small box, but amazingly chock full of stuff, including instructions for lots and lots of activities, blank activity pages for kids to fill in, crayons, stickers, a book, a CD, flashcards, streamers, and even a Mr. Potato Head doll – El Señor Cara de Papa if you're already in an habla español mood.
The whole family felt pretty excited opening up the box, spreading the stuff out all over the table and starting to individually play with what we found. Unfortunately for us, this method of introducing the box was a major tactical error. Soon the table was a mess, everyone was doing something different and no one was playing together or learning any language at all.
Oops.
In hindsight, it would have been much better for us adults to open the box ourselves, read the instructions and then give the kids just one or two activities to do per day – which is exactly what the company recommends, by the way.
Despite our glaring misstep, we were really impressed with the contents of the box. There were tons of creative projects for our niños to sink their dientes into, along with plenty of body-part-related Spanish vocabulary words printed on all the materials.
There was only one thing missing that we truly could have used: help with grammar. We did our best to pronounce the words and try to help our kids learn them. But we quickly realized it would be much easier if we parents were already bilingual – that would make it more natural to incorporate Spanish into our interaction and the kids would learn syntax and grammar rather than just some isolated words. For monolingual families, Kids' Candor kits offer a nice introduction to vocabulary, but they won't make you ready to haggle over the price of horchata anytime soon.
The Audience
As parents of three kids of varying ages, we're always on the lookout for stuff that can entertain all of them at the same time. And although our box said that it was geared toward ages 3–4, we found it was really easy to tailor the materials to fit all of our kids' developmental levels.
There was something in the box that each one of our kids could really get into. Our three-year-old son loved the stickers, our six-year-old daughter got into the drawing and writing activities, and our twelve-month-old baby girl went gaga over the babies in the book.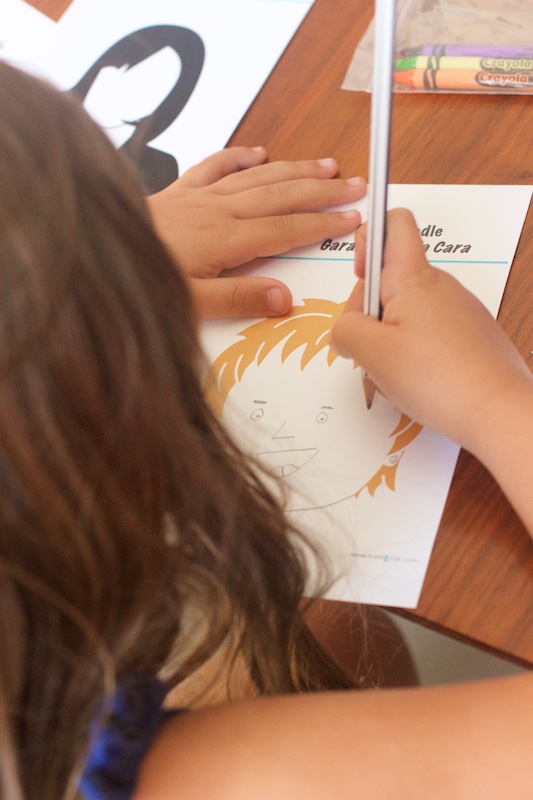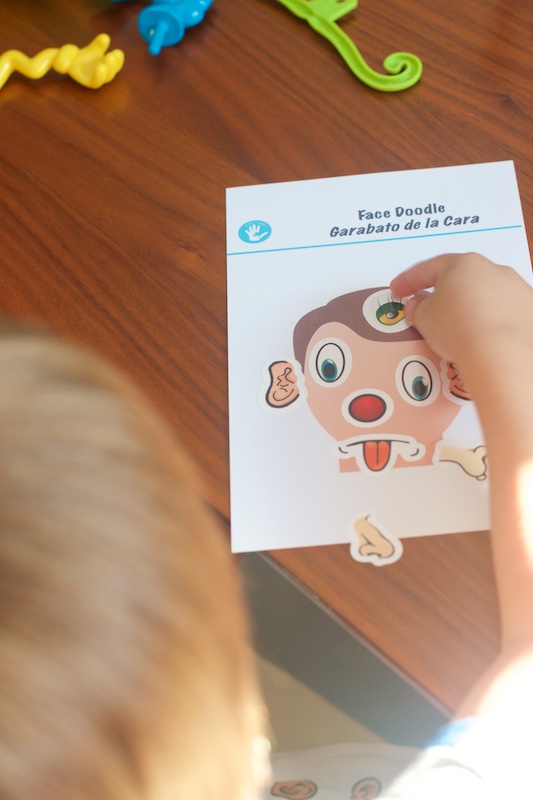 The Verdict
In the midst of our play, we realized two things: 1) Learning together was a really fun way to spend time as a family, and 2) We could really, really use more practice with other languages. For example, here's the first exchange our family had while playing with the box:
THE DAD: Does anyone know how to say "foot" in Spanish?

THE DAUGHTER: No, but I know how to say "cat" in French…chat.

THE DAD: Okay.
So yes, our family could really benefit from more time playing with this box (and a lot more boxes like it).
And since we woke up the very next day to find that the kids had climbed up on the counter by themselves, pulled down the box, and had a field day spreading its contents all over the house – we're pretty sure the kids would be muy felices to have more practice with our Kids' Candor box too!
---
Win a free Bilingual Activity Kit!
The Doctor and the Dad are randomly selecting one lucky reader to receive a free Kids' Candor Bilingual Education Kit of his or her choice! And there are three ways to enter for your chance to win:
Make sure you've subscribed to receive email updates from our website, then leave a comment on this article below.
OR
Make sure you've liked our Doctor and Dad Facebook page, then share this article on Facebook with the tag @TheDoctorAndTheDad.
OR
Make sure you're following our Doctor and Dad Twitter feed, then tweet a link to this article with the tag @DoctorAndDad.
All entries must be received by August 18, 2016. One entry per person per entry method – so if you do all three, you'll triple your chances of winning!

Good luck everybody!