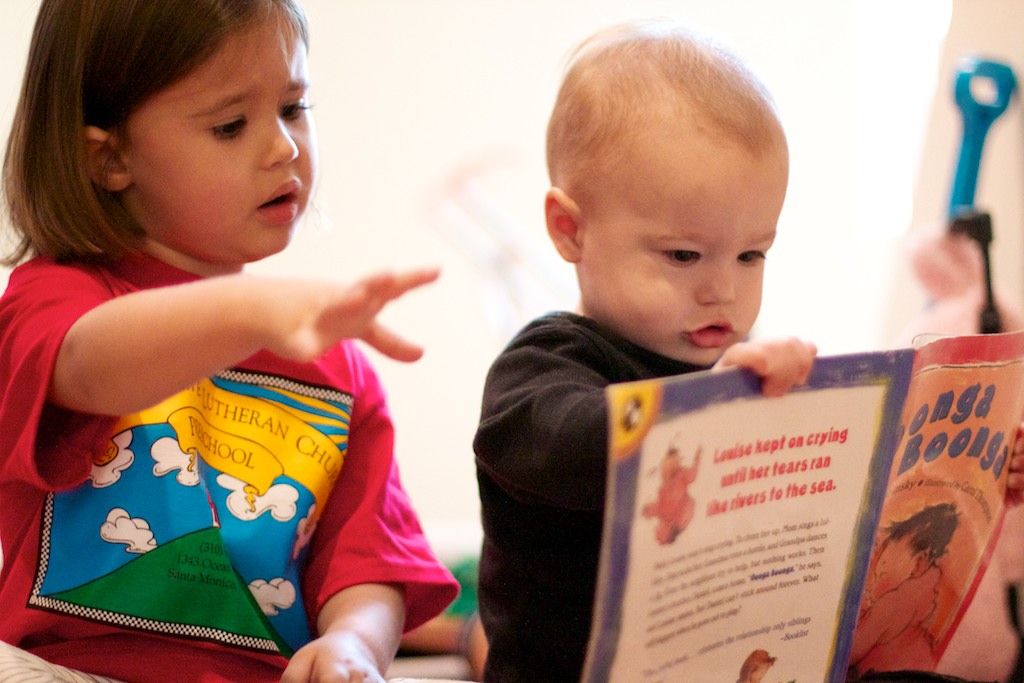 If you pick up a copy of Oonga Boonga, written by Frieda Wishinsky and illustrated by Carol Thompson, thinking that you are instead reading Herman Melville's similarly spelled, semi-autobiographical work Omoo: A Narrative of Adventures in the South Seas, you're bound to be disappointed in this book's lack of island exploration, tribal enslavement and swashbuckling activity in general. But if you read it expecting to find a delightful story about the special bond that siblings share, you'll be totally satisfied.
Here's the setup: Baby Louise will not stop crying. And there's nothing that anyone can do about it. It doesn't matter what her mother, father, grandma, grandpa and all of her neighbors try, this kid is all waterworks, all the time. That is, until her brother, Daniel, comes home…
We won't spoil the ending for you in case you're waiting to see the movie version or something, but we will tell you that none of the characters ever manage to successfully catch a whale. We'll also tell you that the heart of this book centers on the close relationship that exists between a brother and sister. And Louise's young age emphasizes that this bond starts as soon as a new sibling is born.
Interacting with a sibling is one of the first opportunities that kids have to build a lasting relationship with another child. The ups and downs that they navigate with each other prepare them for future relationships, and research shows that this practice pays off in school, where children with siblings have an easier time negotiating relationships with peers.
For us, seeing the joy on the faces of Baby Louise and Daniel as they look at each other reminds us of the gleeful love that our own kids share.
Of course, all of the hysterical crying that Baby Louise does reminds us of some other aspects of their relationship. But for now, let's stay focused on the positives…